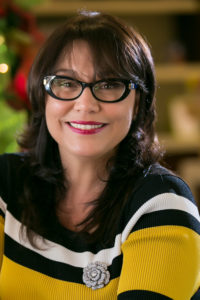 Aruba Fairy Tales has been facilitating memorable destination weddings  on Aruba for over 16 years. It is one of the most progressive and  forward-thinking event arrangement companies on the island; always  sensitive to the needs of its clients and the latest trends for providing  joyful and memorable affairs.
Our experienced staff is prepared to assist brides and grooms to  whatever extent is needed, from full-service, traditional catered  weddings, to intimate beach side ceremonies with minimal frills. No  event is too small or too large to merit our complete and personal  attention. We customize to each client because we firmly believe that  every wedding should be unique.
Indira Maduro
A pioneer in the Destination Wedding business, Aruba Fairy Tales' founder Indira Maduro has created beautiful Aruba Weddings for over 16 years and is dedicated to professional and personal service. She has facilitated countless brides and grooms in making their dream wedding in Aruba a reality, as well as poignant renewal of vows ceremonies for already married couples. She has participated in various conference and tourism "meet & greet" with potential travelers and Celebrity Event Planners, always seeking to recognize their input and improve her services.
Years of experience has provided her with thorough knowledge of every aspect and detail for a successful event. She has become intimately acquainted with traditional cultural rituals from around the world. She is always seeking to expand her knowledge, which contributes to her unique qualifications as a wedding advisor, and is prepared to conquer all challenges. "I have seen and experienced all the rapid changes in the business including the ever-changing styles, looks and trends," she says. "What has remained the same, and is still important to me, is that every bride and groom wants to feel special, great and happy while getting all the attention they need for their big day…" Her full-service company specializes in selecting the ideal location and venue for each client looking for a dream wedding in Aruba.
In her free time, she likes to do her yoga, go for walks on the beach early in the morning, biking, swimming and catching up with her 3 children, all studying and working abroad. She loves to read books and magazines regarding the wedding industry to stay up to date with new trends while listening to instrumental, classical or lounge music. When traveling for business, she combines it with a visit to a museum or a park, shopping and site seeing for inspiration and fresh ideas. She is a big nature lover, too.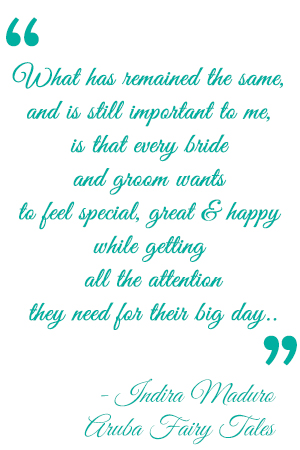 Celebrity Planners – Indira Maduro with Collin Cowie & David Tutera